Its another embarrassing score line for Manchester United this season, losing 4-1 away to newly promoted Watford has now seemingly sealed the fate of Ole Gunnar Solskjaer with his job already hanging by the smallest of thread.
Watford went into half time 2-0 up, through goals from Josh King and Ismaila Sarr, United started the second half brightly, scoring through substitute Donny Van de Beek, before Maguire's red card stalled the comeback, and two 90th minute goals from Joao Pedro and Emmanuel Bonaventure sealed an amazing victory for Watford.
Solskjaer reverted back to the 4-2-3-1, after experimenting with the 5-3-2, starting De Gea, Wan-Bissaka, Lindelof, Maguire, Shaw, Matic, McTominay, Sancho, Fernandes, Rashford Ronaldo.
Claudio Ranieri started Watford in a 4-5-1 shape, starting Foster, Femenia, Cathcart, N'Koulou, Masina, Sarr, Sissoko, Louza, Cleverley, Bonaventure, King.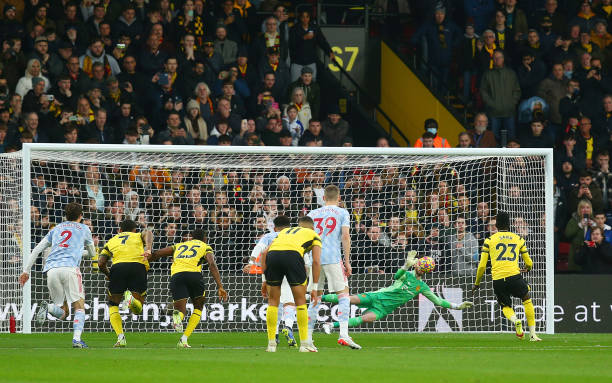 The game had a very dramatic start, a sliced clearance by Bruno put Watford through on goal, but before getting the shot off, King was fouled by McTominay from behind, and although Watford got a shot off afterwards, Johnathon Moss pointed to the spot.
Sarr took the penalty, and De Gea managed to save it, but was parried straight to Femenia to put the rebound in, but was eventually ruled out for encroachment, but the penalty was retaken although Femenia was the furthest inside the box, but history repeated itself as Sarr took the penalty again and De Gea saved it again to keep the score level.
Watford took the lead in the 28th minute through former United player Josh king, a failed clearance by Wan-Bissaka fell straight to Dennis who ran to the by-line and an easy cutback found King unmarked in the box for an easy tap in.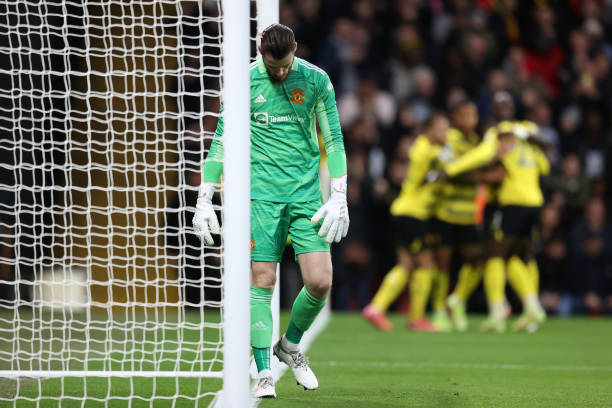 Watford doubled their lead just before half time through Ismaila Sarr, it was another easy goal for Watford, a simple cut back from Femenia found Sarr in acres of space inside the box, his control set up an amazing finish across De Gea to double the lead for Watford.
In the first half United only managed 2 shots on goal compared to Watford's 11, to try and change his fortunes, Solskjaer brought on Van de Beek and Martial for McTominay and Rashford.
The changes seemed to work straight away, Donny Van de Beek was involved in everything good in the second half, including his goal, Sancho received the ball on the right hand side and whipped in a great ball to Ronaldo, who instead of shooting layed it off to Donny for an open goal to try and ignite a comeback for United.
United still looked threatening in the 70th minute, they started to create more chances, but Maguire getting sent off halted all hopes of a comeback, Maguire let Cleverley press him, and with a poor touch Cleverley nicked the ball, Maguire dived in and already on a yellow card it was an easy decision for the referee.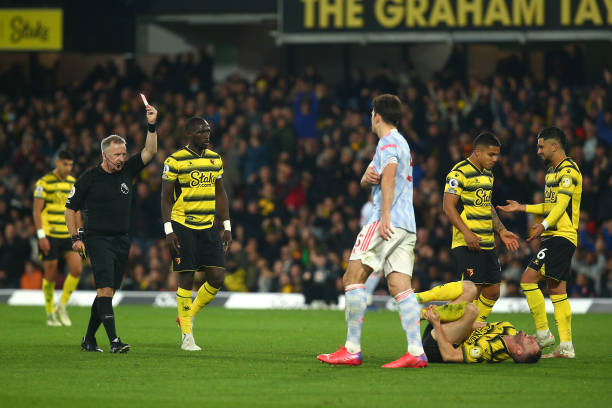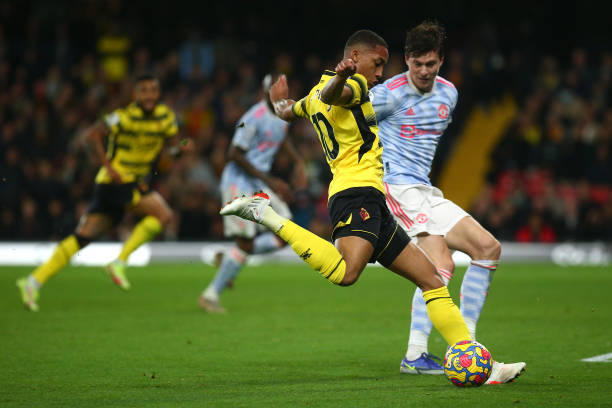 United were able to maintain the one goal difference right up until the end of the game, a good pass from Dennis put Joao Pedro in on goal but still at a tight angle, his very powerful shot went through De Gea's legs at the near post to seal the win for Watford.
With the win sealed, Watford put the icing on the cake, Matic was unable to clear his lines, allowing Bonaventure to get the run on him, he was able to get his shot off from the same acute angle and it went across De Gea and found the back of the net.
United have now lost four of their last five Premier League games, conceding 15 goals in that period, and with this loss coming against a newly promoted team in Watford, it give the board as good of a reason as ever to pull the trigger and bring in the new manager.
There were a couple of positives in this game though, both Donny Van De Beek and Jadon Sancho had their best games in a Manchester United shirt, with Donny getting his first goal of the season with both creating three chances each.