In the United Journal's first feature Match Takeaways article, I will be discussing some of the positives and struggles in yesterday's Premier League game against Brentford.
Scott McTominay's Assertive Midfield Performance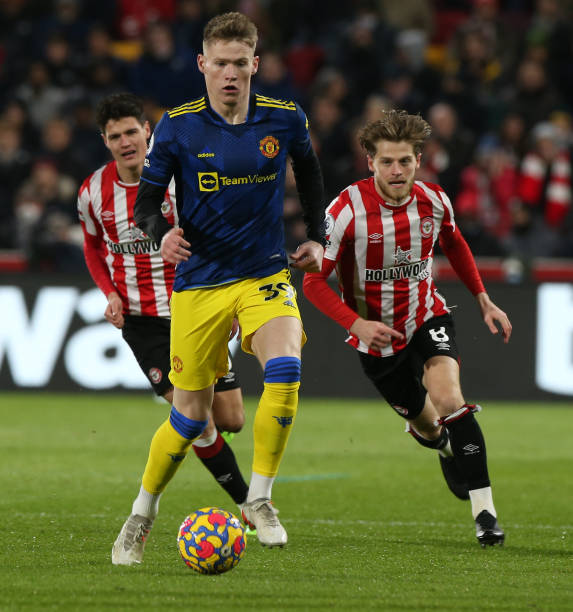 Ralf Rangnick has said he is primarily going to use the 4-3-3 from now on, and McTominay in this game showed he has the qualities to play in the deep midfield position. Throughout the game, McTominay was asserting himself in midfield both on and off the ball, and along with De Gea was one of the very few good performances in the first half.
McTominay in possession was very tidy on the ball, completing 43/48 passes, including 2/3 long balls, whilst also completing 5/6 dribbles and 9/13 ground duels. McTominay was heavily involved in the build-up of two of United's goals, it was his pass to Cristiano Ronaldo's chest which put through Bruno Fernandes, and it was his tackling, dribbling, and pass to Bruno which led to Marcus Rashford's goal.
Ralf Rangnick: "Scott McTominay was exemplary and it was positively contagious to the other players then we could get some counter-attacking situations, the second and third goals were really good with assists from Bruno Fernandes."
Diogo Dalot Cements Right Back Position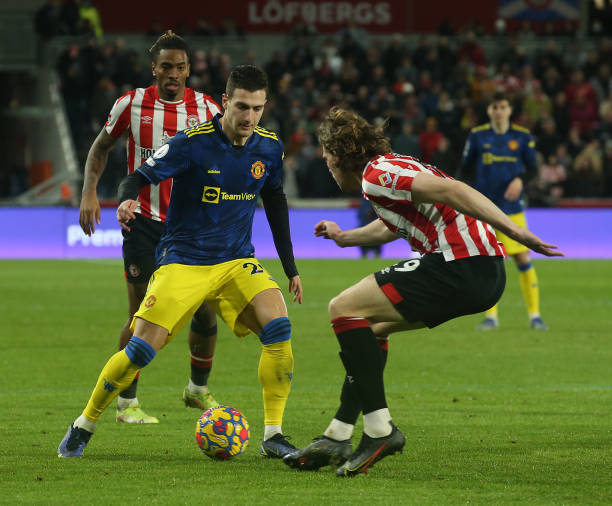 Since Rangnick's appointment, Dalot has been the first-choice right-back, but Aaron Wan-Bissaka hasn't been too far behind with the credit in the bank he has over the last two seasons. Dalot's performance against Brentford was not also good on the ball, which has been good throughout his United career, but defensively he was outstanding, he did great work defending the back post, he had six tackles + interceptions whilst making SIXTEEN ball recoveries.
If Dalot can be this consistent on the defensive end while his attacking output increases as he gets more game time, he could be a real asset to this United team, that any manager that comes in the summer could utilize.
Anthony Elanga Continues to Impress
Rangnick has stated that since his first training session at United, he stood out, and he has rewarded that with chances created on the pitch and Elanga has taken his chances very well. Like against Aston Villa, 19-year-old Elanga was a massive threat on the ball with his blistering pace, whilst also doing the defensive side very well.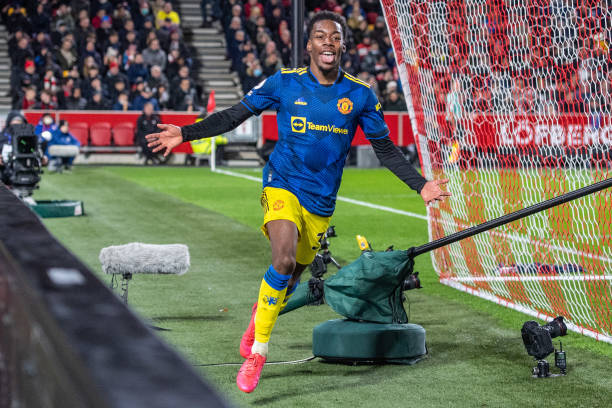 Elanga's goal was very impressive, a good first touch which was hard to control, and showed good instincts to head the ball, repaying the manager's faith in the youngster. With his consistent performances, he could continue to keep Marcus Rashford and Jadon Sancho from the left side of United's attack.
Rangnick: "He [Elanga] followed up on his performance at Villa Park. He was outstanding in the second half, a lot of work against the ball and a goal."
Still Can't Sustain Performance Levels For 90 Minutes
Despite the second half showcasing what United can do under Rangnick, it was still another game where over the full 90 minutes, United struggled for consistent performances. In the first half United was very poor in possession, struggling to get the ball into Brentford's final third, whilst also being pinned back for large periods.
United really struggled to clear the ball from set-pieces, with Brentford consistently the faster team to react to loose balls and more physical when contesting for the ball, which was a complete flip on the second half, where United was much better in the duels and reading the game. To make the top four, these spurts of good performances need to be translated to a full 90-minute performance, otherwise, Europa League is the likely destination.
Set Piece Struggles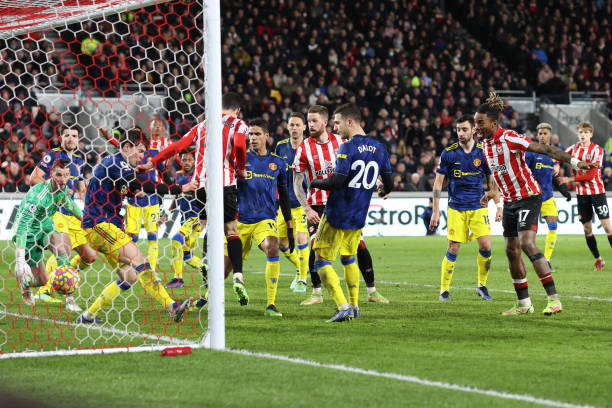 United had nine corners in this game, with the likes of Cristiano Ronaldo, Raphael Varane, Victor Lindelof, and Scott McTominay to aim for in the box and never threatened with any delivery, remaining the only team in the league yet to score from a corner. If United doesn't start taking advantage of set-pieces this season, it could end up costing them the top four.
Brentford is a team that relies on their set-pieces, they have created the sixth most chances in the league from dead-ball scenarios this season. United defended their variety of corners, free-kicks, and throw-ins decently well, but many times looked very reactionary and scrappy. Brentford's only goal from Ivan Toney resulted from United being unable to clear their lines multiple times from a corner.
Academy Showcase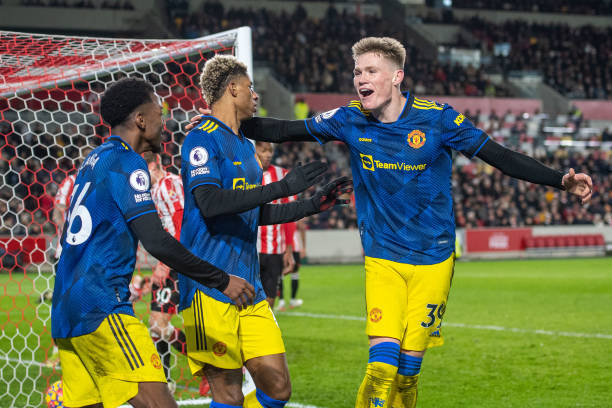 This game was an amazing showcase of the talent that Manchester United produces. All three goal scorers, Anthony Elanga, Mason Greenwood, and Marcus Rashford, are products of the academy, whilst Scott McTominay, who ran the midfield in this game, is also a product of the academy.
It will be interesting to see if Rangnick recognizes this and starts feeding in more talent from the academy, with Hannibal Mejbri and Alvaro Fernandez being the next talents, who aren't away on loan, that could start getting first-team minutes.
Bruno Fernandes Striving in the 4-3-3
The last two games have seen Rangnick switch to the 4-3-3 after the 4-2-2-2 really didn't work well for squad balance. In these two games, Bruno has contributed 2 goals and 2 assists, whilst linking up play really well in the midfield.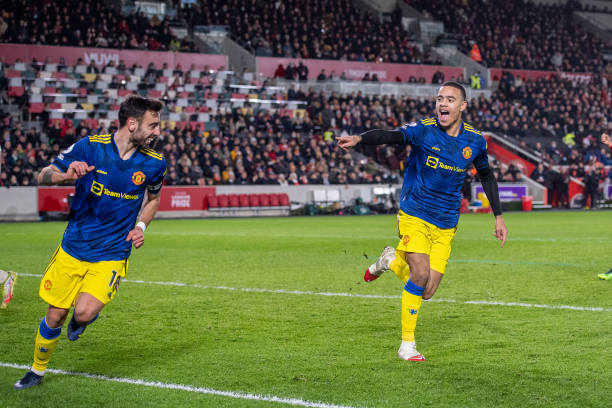 Adding another player in a midfield that lacks ball-playing quality could be the balance that this squad needs to start controlling the midfield more often. Bruno was wasted being stuck high up the pitch, getting him involved in the build-up play whilst also being allowed to move higher up the pitch could see the return of form for both Bruno and United.